Nobody goes hungry in an Irish Farmhouse bed and breakfast! It's a lovely start to any holiday to be met with fresh home-made treats on arrival at your chosen Farmhouse B&B.  This carrot cake recipe was kindly given to me by one of our Farmhouse B&B homes that's located along the Wild Atlantic Way. Why not try to make it at home? I think you'll agree that it's delicious…
Ingredients
butter for greasing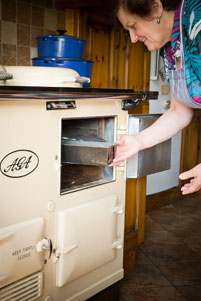 115g/4 oz self-raising flour
pinch of salt
1 tsp ground allspice
½ tsp ground nutmeg
175g/6 oz soft brown sugar
2 eggs, beaten
5tbsp sunflower oil
175g/6 oz grated carrots
1 banana, chopped
25g/1 oz chopped toasted mixed nuts
Frosting

3 tbsp butter, softened
3tbsp cream cheese
175g/6 oz icing sugar, sifted
1 tsp orange juice
grated rind ½ orange
walnut halves or pieces, to decorate
Method

1. Grease an 18-cm/7-inch square cake tin with butter and line with baking parchment. Sift the flour, salt, allspice and nutmeg into a bowl. Stir in the brown sugar, then stir in the eggs and oil. Add the carrots, banana and chopped mixed nuts and mix together well.
2. Spoon the mixture into the prepared cake tin and level the surface. Transfer to a preheated oven, 190˚C/375˚F, and bake for 55 minutes or until golden and just firm to the touch. Remove from the oven and cool. When cool enough to handle, turn out on to a wire rack to cool completely.
3. To make the frosting, put the butter, cream cheese, icing sugar, orange juice and orange rind into a bowl and beat together until creamy. Spread the frosting over the top of the cold cake, then use a fork to make shallow wavy lines in the frosting. Scatter over the walnuts, cut the cake into bars and serve.