Ireland is renowned for its beautiful landscapes, rugged coastlines, historical sites and welcoming towns, making it the perfect holiday or staycation location. As there is so much to see and do throughout the whole country, Ireland is divided up into five main regions to make it easier for you to explore. Each region offers visitors unique and memorable experiences.
Dublin
Located on the east coast of Ireland, Dublin is Ireland's capital city that is renowned for its warm and friendly atmosphere. While also being an exciting and vibrant city with a bustling social scene, it also offers plenty of opportunities for exploring the natural beauty of the region, with highlights including the Dublin Mountains, Phoenix Park and Howth Cliff Walk. It is also home to some of the most significant buildings in Irish history such as Dublin Castle.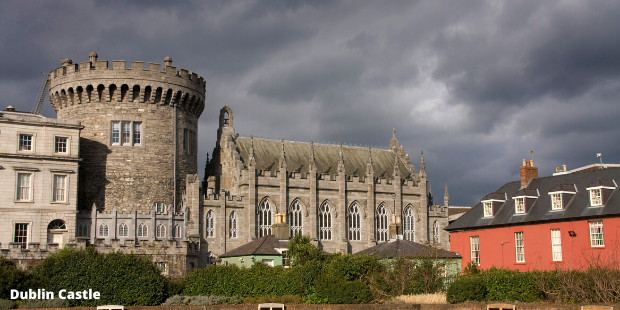 The Wild Atlantic Way
The Wild Atlantic Way is a stunning 2,500km coastal trail that runs along the Atlantic Ocean on the west coast of Ireland. It begins in beautiful County Donegal and also encompasses the counties of Sligo, Leitrim, Mayo, Galway, Clare, Limerick, Kerry and Cork. The Wild Atlantic Way is a fantastic route for exploring so many stunning attractions such as The Cliffs of Moher in County Clare and Mullaghmore in County Sligo. You can also pick up your very own Wild Atlantic Way passport which can be a souvenir of your journey along this scenic route.

Ireland's Ancient East
Ireland's Ancient East is the perfect base for exploring the history of Ireland, as it is home to a wealth of fascinating ancient ruins dating back as far as Celtic times. Encompassing counties such as Cavan, Longford, Louth, Meath, Monaghan and Westmeath, there is a vast range of historical sites to explore, such as Newgrange in Country Meath and Glendalough in County Wicklow. Visitors to the region can expect to find many ancient castles, abbeys, monasteries, dolmens and ring forts, all which give a unique insight into Ireland's interesting past.

The Causeway Coast
The Causeway Coast, located in Northern Ireland, is a region of exceptional natural beauty spanning from Derry to Belfast. It is home to some of the most stunning locations, such as The Giant's Causeway in County Antrim which is Northern Ireland's first UNESCO World Heritage Site. This region offers amazing coastal views and stunning landscapes, along with an abundance of adventure opportunities for visitors to enjoy such as hiking, cycling and surfing.

Hidden Heartlands
Ireland's Hidden Heartlands is an area of breath-taking beauty, nestled in the midlands of Ireland. Visitors to this area can expect to be amazed by the stunning natural beauty of counties such as Leitrim, Roscommon, Longford and Cavan. This area is renowned for being a region of peace, tranquillity, and unspoilt landscapes, with plenty of forests, woodlands and greenways to explore. It is an ideal place to relax and unwind, while taking in the stunning surroundings of the area.