There are so many reasons why an Irish farmhouse B&B is the perfect choice of accommodation when visiting Ireland. Here are my top 5 reasons why it could be the ideal choice for you…
Farmhouse B&B Hosts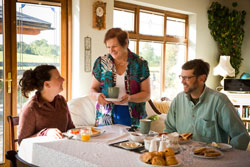 From the moment you arrive at your farmhouse B&B, your hosts will be the ones that make sure your holiday is the best it can be. They'll be there to welcome you and make you feel at home from the moment you arrive.  You will be greeted with refreshments and as all farmhouse B&Bs are family run, hosts will be on hand throughout your stay to ensure personal attention. They have a wealth of local knowledge and will be happy to share this information with you. From local history to tourist attractions, restaurants to pubs they'll point you in the right direction.
Home-cooking
Home-cooking is a specialism of the farmhouse B&B. Hosts like to grow their own crops, keep their own hens for eggs and use their own produce in food they prepare for guests. The full Irish breakfast is a tradition of Irish B&B, but menus are always varied. From pancakes to smoked salmon and scrambled eggs you'll be spoilt for choice. Homemade scones, brown bread
and fruit preserves will delight your taste-buds.
Working Farm
You have the opportunity to be part of the whole working farm experience. Pull on a pair of wellingtons and enjoy a variety of farm activities from collecting eggs to feeding the farm animals. A farm holiday is the perfect way to get away from it all and get back to nature. You'll leave the stress and strains of life behind with a stroll across the open field of the beautiful Irish countryside.
Authentic Irish Experience
If you are looking for an authentic Irish experience, you'll find it by staying in a farmhouse bed and breakfast. Farms are run by Irish families who have been welcoming guests into their homes for many a year. Irish traditions are very important in the country areas of Ireland. Most families have members that sing, play an instrument or Irish dance, so don't be surprised by an impromptu music night. If you choose to stay in a Gaeltacht region, the Irish language along with English will be used in the home.
Countryside Location
Choosing a farmhouse holiday means you are surrounded by natural beauty, scenic landscapes and green pastures. Bed and breakfasts in Ireland are conveniently located close to lots of must-see attractions, from historical ruins to sandy beaches along the Wild Atlantic Way. No matter which county you choose to stay in, there will be a wealth of activities just waiting for you.